Ratifying the Thirteenth Amendment, 1866
A primary source by the Iowa General Assembly
View this item in the Collection.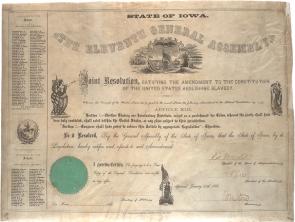 President Abraham Lincoln's Emancipation Proclamation freed slaves only in Confederate states still at war with the Union on January 1, 1863, and as a wartime order, it could be reversed by subsequent presidential proclamation, congressional legislation, or court ruling. Through a constitutional amendment, the abolition of slavery could be made permanent throughout the United States.
In April 1864, the Senate, responding in part to an active abolitionist petition campaign, passed the Thirteenth Amendment to abolish slavery in the United States. Opposition from Democrats in the House of Representatives prevented the amendment from receiving the required two-thirds majority, and the bill failed.
Following his re-election in November 1864, Lincoln threw his weight behind the amendment. He persuaded eight House Democrats to switch their votes and encouraged several other Representatives who had missed the previous vote to support the amendment, which was finally passed on January 31, 1865. The Constitution does not require presidential signatures on amendments, but Lincoln added his, making it the only constitutional amendment to be later ratified that was signed by a president.
The Thirteenth Amendment was ratified on December 6, 1865, when Georgia became the twenty-seventh state to approve it out of the then-total thirty-six states. Iowa was the thirty-first state, voting for ratification on January 15, 1866. The document shown here is the joint resolution passed by Iowa's House and Senate and printed on March 30. It lists the names of all the Iowa legislators in the general assembly who voted for ratification, and includes a few small engravings depicting allegorical symbols of liberty and other patriotic images.
With the ratification of the Thirteenth Amendment, four million African Americans—almost a third of the population of the South—became permanently free and slavery was abolished in the United States:
Section 1. Neither slavery nor involuntary servitude, except as a punishment for crime whereof the party shall have been duly convicted, shall exist within the United States, or any place subject to their jurisdiction.

Section 2. Congress shall have power to enforce this article by appropriate legislation.
A high resolution scan is available here.
Questions for Discussion
You are seeing this page because you are not currently logged into our website. If you would like to access this page and you are not logged in, please login or register for a gilderlehrman.org account, and then visit the link that brought you to this notice. Thanks!
Metadata
Make Gilder Lehrman your Home for History
---
Already have an account?
Please click here to login and access this page.
How to subscribe
Click here to get a free subscription if you are a K-12 educator or student, and here for more information on the Affiliate School Program, which provides even more benefits.
Otherwise, click here for information on a paid subscription for those who are not K-12 educators or students.
Make Gilder Lehrman your Home for History
---
Become an Affiliate School to have free access to the Gilder Lehrman site and all its features.
Click here to start your Affiliate School application today! You will have free access while your application is being processed.
Individual K-12 educators and students can also get a free subscription to the site by making a site account with a school-affiliated email address. Click here to do so now!
Make Gilder Lehrman your Home for History
---
Why Gilder Lehrman?
Your subscription grants you access to archives of rare historical documents, lectures by top historians, and a wealth of original historical material, while also helping to support history education in schools nationwide. Click here to see the kinds of historical resources to which you'll have access and here to read more about the Institute's educational programs.
Individual subscription: $25
Click here to sign up for an individual subscription to the Gilder Lehrman site.
Make Gilder Lehrman your Home for History
---
Upgrade your Account
We're sorry, but it looks as though you do not have access to the full Gilder Lehrman site.
All K-12 educators receive free subscriptions to the Gilder Lehrman site, and our Affiliate School members gain even more benefits!